source: StadiumDB.com; author: Mateusz Osmola
The construction of a new stadium has just started in the Turkish capital, on the site of Ankara 19 Mayıs Stadyumu, which was demolished in 2018. The venue was initially planned to have a capacity of 55,000 spectators. However, the project was skimmed and the arena will finally be able to accommodate "only" 45,000 people.
Turkey was one of the two candidates for the organization of Euro 2024. Ankara was to be the arena for one of the semi-finals of the championship, therefore according to the requirements of the European federation, a stadium of one capacity of more than 50,000 spectators would have to be built in town. Therefore, Ankara Stadyumu, according to the original concept of 2018, was supposed to accommodate 55,000 fans.
As we know, greater recognition in the eyes of UEFA delegates has gone to Germany and this country will host the tournament. Meanwhile, the arena project in the Turkish capital has remained frozen for four long years.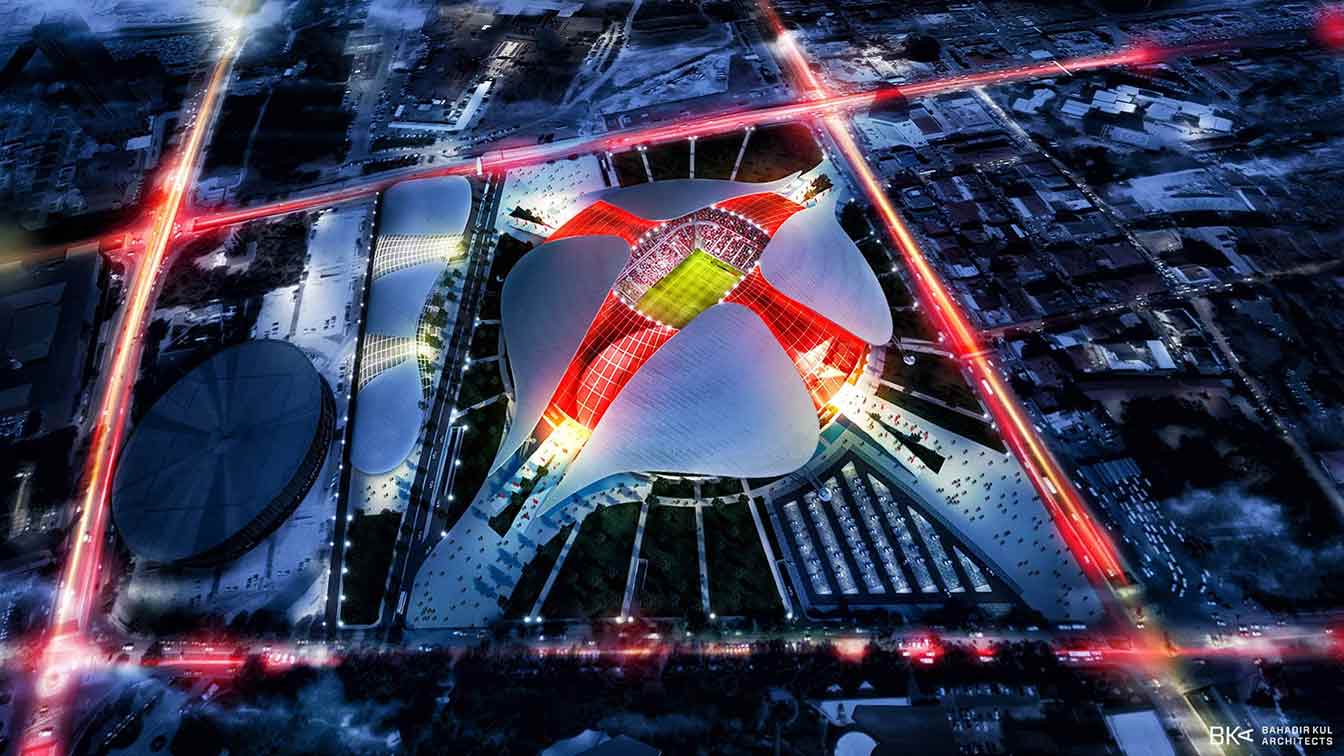 © BK Architects
As the old saying goes, there is luck in leisure, and so Anno Domini 2022, investing, in lean form, has been given the green light. On June 13 this year, an agreement was signed with the contractor, which became a consortium of Yıldızlar Grup and ASL İnşaat. The winner was selected through a closed bidding process to which seven parties were invited. The value of the contract is 4.52 billion Turkish liras, all from public funds. Construction of the stadium is expected to be completed by 2025 at the latest.
Bahadır Kul Architects' most recent concept involves the aforementioned reduction in capacity to 45,000 seats. The auditorium will consist of high stands on two levels, surrounding the pitch on all sides. Their finial will be wavy, and the highest point will be located in the middle section along the pitch. The seats should be white and red.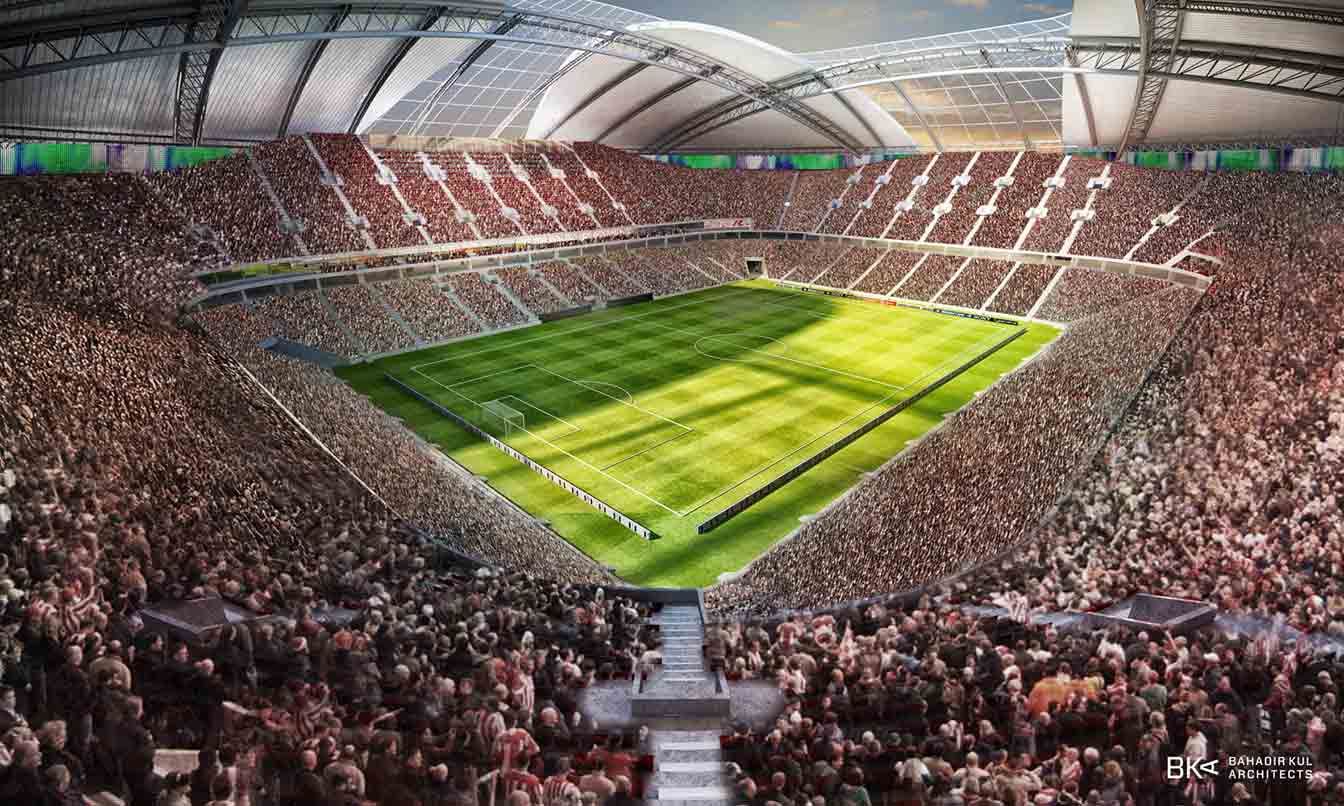 © BK Architects
The stands will be fully covered and the canopy itself will have a strongly convex shape to resemble a dome. The roof will be supported by four huge arched trusses and much of it will be glazed. In relation to Ankara 19 Mayıs Stadyumu, the land will be rotated and positioned on a north-south axis.
The surroundings of the arena will be completely redesigned. Four main entrance walkways will lead into the stadium, one on each side. The nearby athletics stadium, indoor arena, training grounds and tennis courts are to be demolished. In their place, new car parks and green spaces will be created.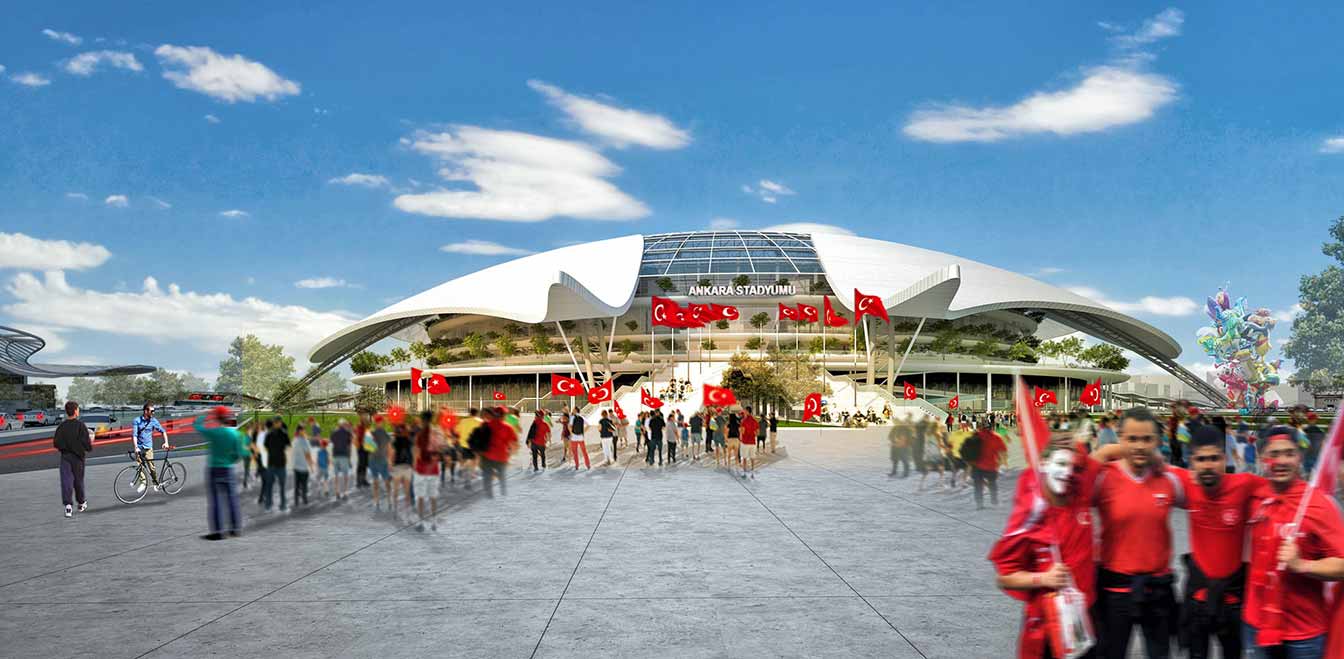 © BK Architects
The construction of Ankara Stadyumu would bring the Turkish national football team to the capital much more often than before. The facility would also attract a range of other sporting and non-sporting events. Local club Ankaragücü are also set to become hosts of the new stadium.